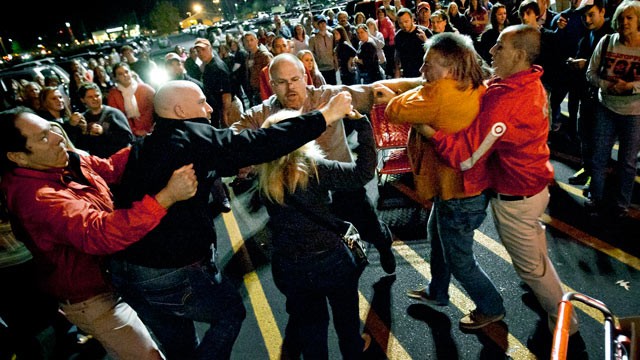 It occurred to me this morning as I watched with awe the amount of media coverage being afforded to discount shopping what this signified to us as a culture. Memories of people dying while trying to score a deal at a Walmart ran through my mind, bringing with it the obvious consumerism that grips our societies. What also occurred to me was something a bit more subtle. Something more pervasive whose symptom is this notion of buying things at the lowest price and on heavy discount. I got thinking about the gradual decline of our collective human expectations.
Over the years we have been conditioned with this idea that quality costs. For something of substance, something of duration you had to pay for it. Whether it was watches, computers, cars, furniture or televisions the expectation was always that quality came at a price. In contrast to this we have also experienced over a decade of heavy discounts, "lower everyday prices," "as is" items and flash sales. All good you say. Cheaper is always better for the consumer right? Well, not always. With it comes a psychological cost which is far more damaging than you think. This psychological cost is a collective set of lowered expectations from the things that we buy into. Any of this sound familiar?
"It's cool that it broke, I got it for 50% off." Or, "I bought this one at Walmart so I figure it'll break in a year."
Collectively, through this discounted approach to life we are also collectively discounting our expectations. We are now expecting less from our goods, services and even ourselves. We expect failure, we expect incompleteness. And when something breaks, we expect warranties not to cover it. But this lesser set of expectations isn't just reserved for consumerism … it's permeating throughout our society.
Another representation of this is the cheap excuses coming out of the web development sphere with this 1% complete ethic. While innovation through iteration can be valuable as a process the externalization of it into the real world has real psychological effects. We expect shit to break online and it sucks. "It's only in BETA" we say. "We're only 1% complete." This attitude breeds carelessness from a development perspective and marginalized expectations from people who use it. Why do you think the world goes collectively mental when Apple announces a new product? It is because they do a great job of exceeding a low bar that the world is setting for us by making things that look good and just work!
Think I'm crazy yet? Let's talk about corporate social responsibility and conscious capitalism. Do we really believe that the charitable donations that Starbucks makes as a part of your coffee purchase is enough to offset their global footprint? Do we really believe that giving away a pair of Tom's shoes really counteracts the effects of their supply chain? Are we really in a time where social entrepreneurship is going to thwart the likes of the mining, minerals, gas and oil industries? Want to make a real difference, go support the protests around the Keystone Pipeline. These low-level activities are just serving to our collectively lowered expectations where we think something is better than nothing.
The final nail in the proverbial coffin, cheap geo-political wins. The recent devastation in the middle east was recently met with a shocking state of euphoria when a ceasefire was reached in an entirely unnecessary conflict. People partying in the streets of Gaza just because they wouldn't be shelled by Drones for one more night is ultimate decline of human expectation. Another example? How about the stock market response to the raising of the debt ceiling being treated like a heroic achievement of the highest order. In a world where we are presented with with techno-optimists that speak of immortality and uploading our consciousness why do we also slowly bleed our set of human expectations of one another in conjunction.
I often write about the technological mandate of a sincere reflection on our human values because it is these values that amplify and scale through technology. When those values are based on a lowered set of expectations then that is what we all create in response. Make no mistake that our data, through the internet, is the representation of our values. It is not until we take the time to look at ourselves and see what we believe in that things can really change. Until then, shop on Black Friday shoppers, shop on.
Image sourced from here: http://abcnews.go.com/US/black-friday-frenzy-run-washington-man-pulls-gun/story?id=17792650#.UK_9Kz96-bg